Affordable genome complexity reduction technology for a wide range of organisms, research and commercial applications.
Add a header to begin generating the table of contents
Genome complexity reduction technology

DArTseq is our proprietary genome complexity reduction-based sequencing technology.
It differs from other methods through its ability to intelligently select the predominantly active – low copy sequence – areas in a genome, which are the ones containing the most useful information. At the same time, DArTseq masks the lesser value, repetitive sequences. It does this through the application  of a combination of restriction enzymes to fragment DNA samples in a highly reproducible manner.
Consequently, when this enhanced library is sequenced on Next Generation Sequencing (NGS) platforms, we can analyse a far greater number of high-value fragments than was possible with earlier technology – and at a fraction of the cost.
To optimise the complexity reduction method used for any given sample, DArTseq works with many restriction enzyme combinations. We have invested considerable effort in testing various combinations on a significant number of organisms, to achieve the best performance possible, when compared to other methods.
This process has, in many cases, selected one dominant complexity reduction method for each crop, although in some cases several methods have been identified offering application-specific advantages. This difference may be quantitative – where we use different numbers of unique fragments in the representation – or compositional – where we capture different sets of fragments in the representations.
These differences in representation, size and composition translate to different efficiencies in marker detection rate and quality (call rate and reproducibility) and can be further optimised for performance in different applications.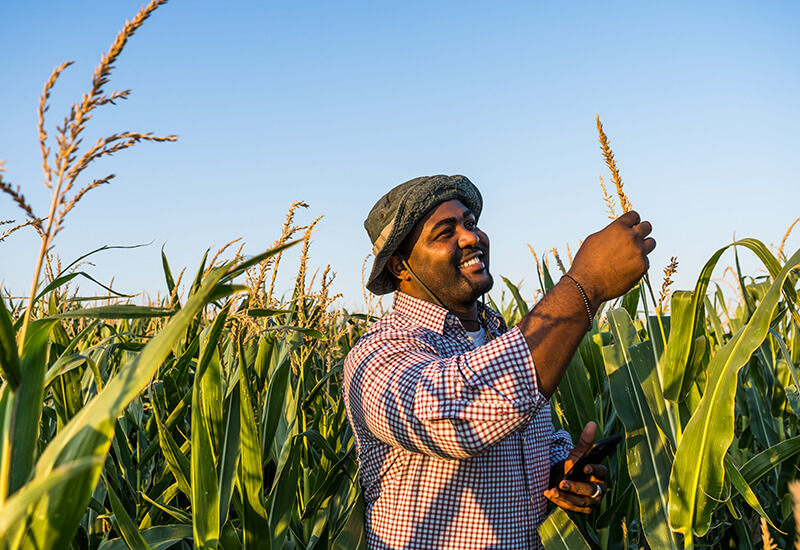 DArTseq is suitable for a range of organisms in agriculture and ecology including wheat, grain, leaves and seeds. 
1 of 2
Beneficial for primary producers, farmers, breeders and researchers. 
2 of 2
The main features of DArTseq include:
DArTseqLD
While most of the applications of DArTseq are directed at the whole genome analysis and high marker densities, there is an increasing demand for lower density, cheaper assays. 
DArTseqLD (low density) is one of the simple solutions for such needs. We randomly select a subset of fragments from a normal DArTseq, resulting in a smaller representation, and correspondingly smaller number of markers – perhaps in the hundreds or thousands. 
This number of markers is highly appropriate for applications like Quality Assurance and Genomic Selection when materials with high Linkage Disequilibrium are analysed.
DArTseqMet – Methylation analysis
While "regular" DArTseq is capable of detecting methylation variation among SilicoDArT markers, we have also developed a dedicated methylation analysis using the DArTseq platform.
Ready to get started on your next DArTseq project?
We can support your research and genetic analysis efforts for projects large and small with affordable genotyping services. Click below to request a quote or to order our genotyping services online.